Reynaldo dos Santos Technological Centre seeks to revolutionize medical education. Virtual Patient Simulator opens the door to innovation and modernization.
Innovate and transform the vision of teaching Medicine led the Faculty of Medicine of the University of Lisbon (FMUL) in partnership with Take The Wind (TTW), the Portuguese company that created the virtual patient simulator – Body Interact, to develop the advanced online course in Cardiovascular Emergencies. The masterclass first edition, which starts on April 9th, counts on the partnership of the pharmaceutical group Novartis.

Over 16 modules, participants will have the opportunity to know the state of the art of diagnostic and therapeutic approach in Cardiology. The clinical scenarios prepared with a team of cardiologists from the University Hospital Centre of Lisbon North, allow current and future cardiologists to enhance learning, develop clinical reasoning and achieve excellence in performance.
In addition to the cases, the modules also include an explanatory video reviewing the clinical situation to which the professional was virtually exposed and the decisions that he was called to make.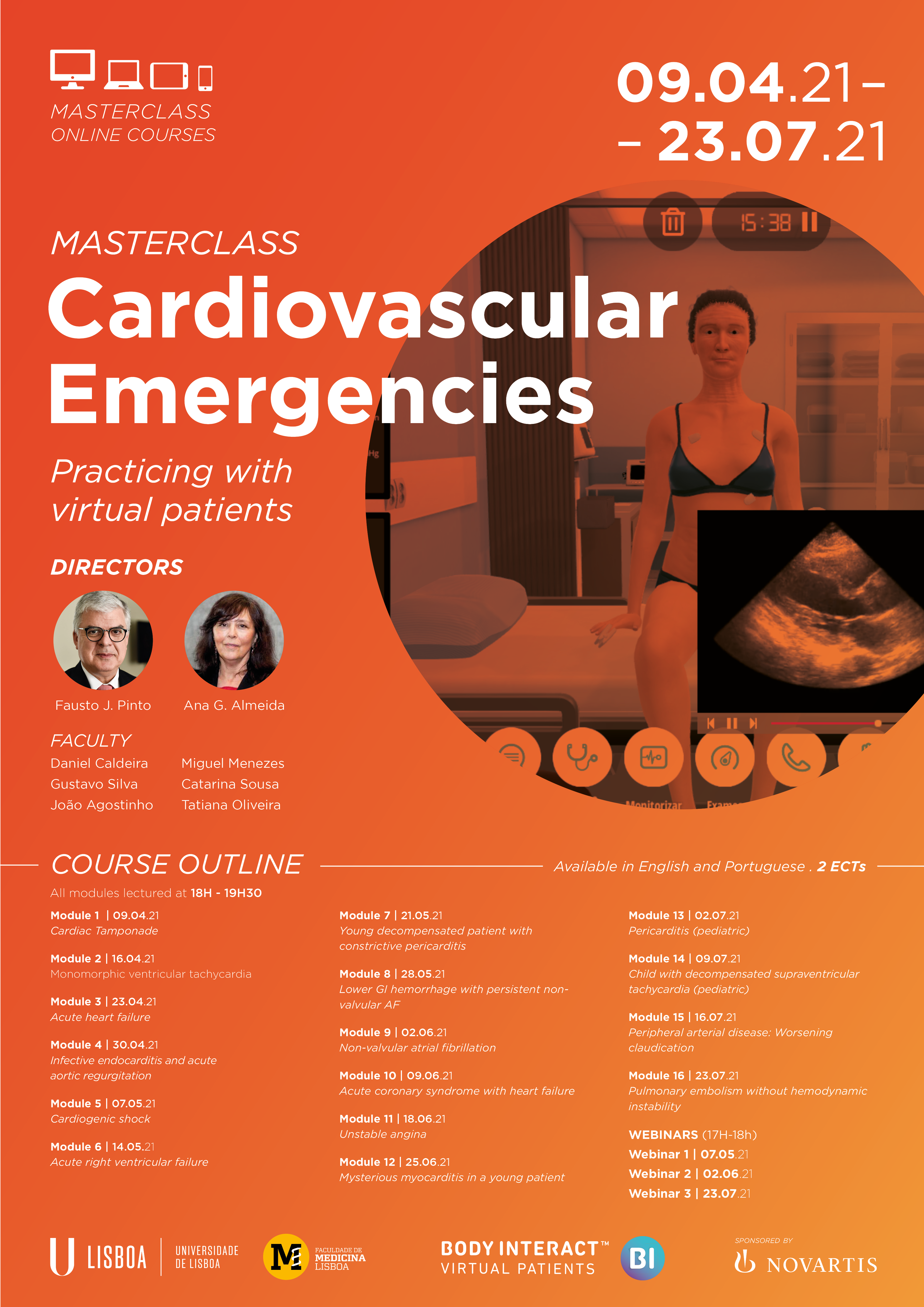 In the words of Dr Fausto Pinto, Director of the Heart and Vessels Department of the University Hospital Centre of Lisbon North and Director of FMUL, the course was developed to respond to the "importance of correctly approaching cardiovascular situations" and, in particular, the most urgent situations, "which require early diagnosis and effective therapy administered as quickly as possible".
As the main cause of mortality and morbidity in the world and in Portugal, cardiovascular diseases represent a constant concern in the daily life of healthcare professionals in hospital environments, requiring them to constantly invest in renewing and updating their knowledge.
In an era where training is reinvented remotely, Body Interact presents itself as the ideal partner in an ambitious and innovative project based on two essential pillars: the stimulation of critical thinking and the resolution of life-like clinical cases.
The CEO of Take The Wind, Pedro Pinto, highlights the importance of this project "for the continuous training of cardiologists in a decade where digital is presented as a solution", as well as for the fulfillment of its mission as a company: "empowering caregivers to reduce the impact of clinical errors".
The Masterclass on Cardiovascular Emergencies already promises a second edition with a start date set for September, as a way of responding to the strong demand of the current market.