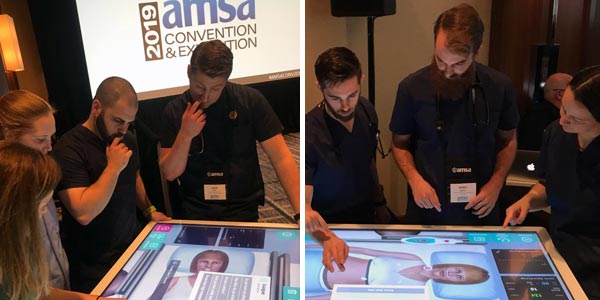 Either working individually or as a team, simulation is a vital tool to increase medical knowledge. Empower future physicians is one of the main purposes of AMSA.
Sim Challenge, a series of simulated clinical scenarios, was the greatest competition lived by the participants of the American Medical Students Association's (AMSA) Annual Convention and Exposition 2019. From March 7th to 10th, in Washington D.C., eleven North American universities with students from different years of studies, solve a range of clinical cases using Body Interact, task-trainers and high-fidelity manikins.
At the conference, Body Interact promoted two distinct stations. One with computers where participants had to solve individually a clinical case and, the other, a team work task where they had to save a virtual patient life on Body Interact table. Medical knowledge, clinical skills, teamwork and commutation were the main competencies needed for a successful performance.
Ten minutes was the time each team had to perform on each station and students would be totally responsible for designing their own diagnosis and treatment plan. Moreover, these three days event also provided medical and premedical students the opportunity of coming together with other students, faculties and professionals, exploring emerging issues in medicine, present their original research and elect their leadership.
AMSA Annual Convention & Expositions is open for anyone interested in the future of healthcare: students, residents, healthcare organizations and professionals alike. Coming from Canada to Chile, the largest independent student-governed organization in the world looks forward to inspire, inform and make healthcare accessible and affordable. By providing future physicians innovative opportunity, the students association keeps working on the future empowerment.