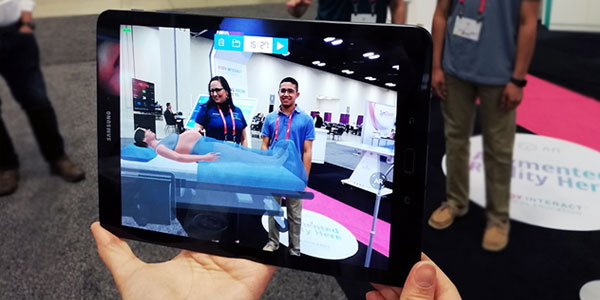 Late January, Body Interact crew headed towards IMSH meeting, a scientific conference that explores the latest innovations and best practices in healthcare simulation. This year, sunny San Antonio gave us a great time and we couldn't be happier to participate once again.
We are always looking forward to impact change in clinical education in order to improve patient safety and to advance skills of students and professionals, and one of our IMSH traditions is to bring something new to each edition of this event. This time we had several surprises: we presented a sample of our new scenarios to train first responders; we made the workshop "Simtegration: combining virtual reality with task trainers for a comprehensive Learning Experience" in partnership with Limbs&Things; and we launched the Body Interact AR (augmented reality) which was very welcomed and had many "Wow!" moments among attendees. Booth #741 was crowded all the time!
If you are feeling sad or disappointed for not attending the event, no worries. Feel free to drop us a line if you want to schedule a meeting to know more details about any of the topics mentioned above, or to schedule a demo.
Finally, a special thank you to all the IMSH staff and community. We look forward to see you in San Diego for the 2020's edition!