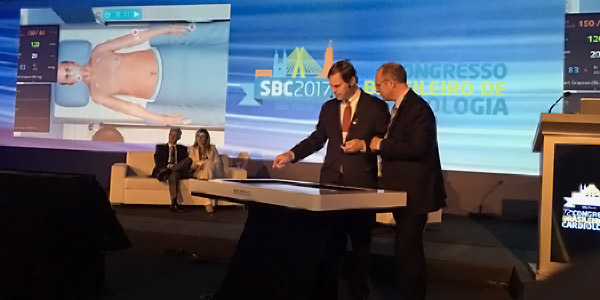 The 72th edition of the Brazilian Congress of Cardiology, promoted by the Brazilian Society of Cardiology (SBC) in partnership with the greatest international leaders in cardiology, has delivered innovative content to its attendees.
This year, the event included a course "CardioX – Cardiology Experience by the SBC and the American College of Cardiology (ACC)" mostly focused on virtual reality, technology and interactivity. The four sessions performed used a digital table with a software built around Brazilian and American guidelines: Body Interact. "This platform is totally different from the usual learning approach, it's one of the great innovations that SBC 2017 has", mentioned Dr. Marcus Malachias, President of SBC.
Attendees had the chance to try, play, heal and diagnose in real time several patients with acute cardiac settings, having clinical discussions around each case and seeing how their actions impacted the simulation flow.
In the first session in the morning, the delay on decision and the action of not doing a certain intervention caused the virtual patient's death. "We have done a severe scenario of acute cardiac insufficiency and have seen things that happen in our daily basis. We leave this session with a feeling of enrichment and with the certainty that the main goal is to find ways of saving lives" said Dr. Malachias without losing his sense of humor. "Let's see if we can save the next one", he joked.
Our acknowledgment to the SBC team and staff, and to all who participated in this amazing event. Watch SBC video here.