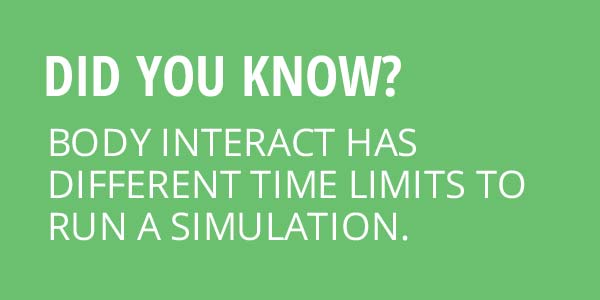 Body Interact simulation can be ran in 10, 15, 20, or 25 minutes. How much time would you like to spend?
You may be thinking "10 minutes to run a case? Sounds hard and it must require super-fast skills to solve everything on time!" Actually, when a teacher chooses 10 minutes of simulation, he probably wants to request simple tasks from his students.
For example: a patient is in front of your eyes, sweating and mumbling. What is the correct approach if you only have 10 minutes?
Can you talk to him to obtain some details about his health condition? Which vital signs should you monitor? Should you request any kind of test or exam? Do you have to call for a fellow specialist?
Different time limits of simulation allow for different clinical objectives and different possibilities to explore clinical reasoning.
10 minutes of simulation doesn't mean that a case is going to run faster. If you really want to try to solve a case, from beginning to end, you should choose at least 15 minutes.
Of course there are scenarios where action takes place more quickly. If you are facing a sepsis, you really need to think and act fast, otherwise your patient's health will aggravate drastically!
Our best piece of advice for students? Even if you are being put to the test, take a deep breath, trust your gut feeling, and try to enjoy the ride. At the end, we are sure you will improve your reasoning skills with the certainty that no one gets harmed